INCREASE ENERGY, ENDURANCE, FOCUS, & INTENSITY*
#1 CLEAN PRE-WORKOUT
HONEY BADGER® PRE IS RATED 4.9 STARS BY 5000+ CUSTOMERS
GET YOURS NOW
WHAT OUR CUSTOMERS ARE SAYING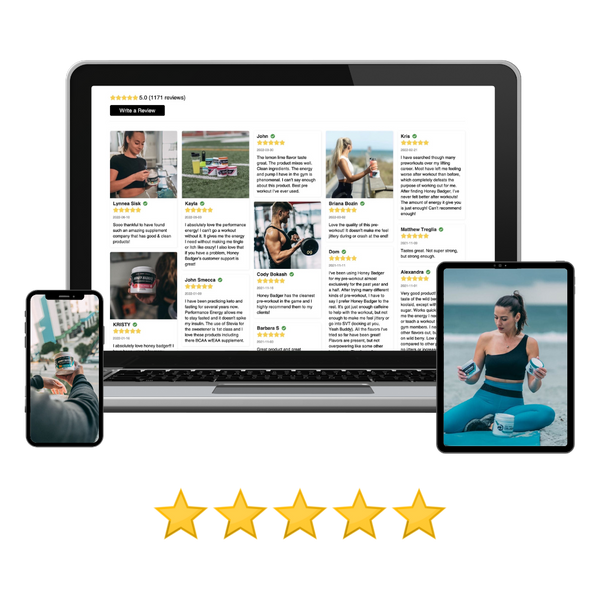 AS SEEN IN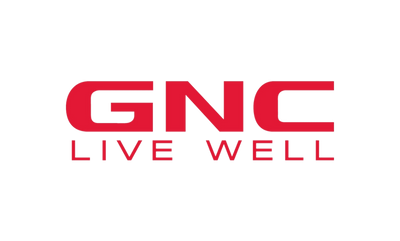 FRANCHISE LOCATIONS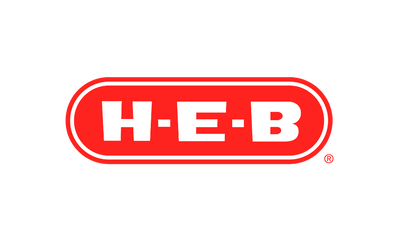 HEALTHY LIVING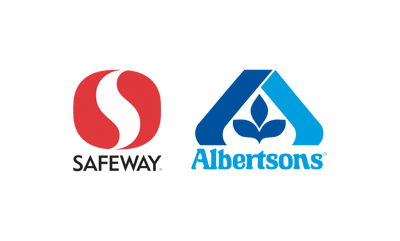 SUPPLEMENT AISLE
GET ENERGIZED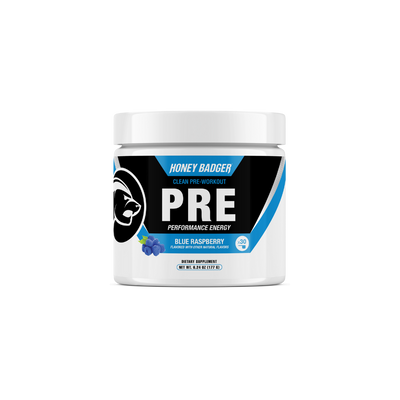 BUY 1 $34.95
GET 1 ITEM
TRY NOW RISK-FREE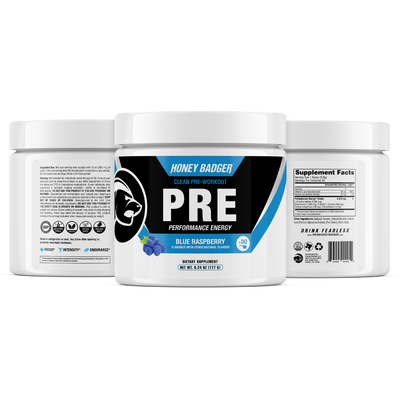 BUY 3 SAVE 30% OFF
MOST POPULAR

MIX & MATCH 3 ITEMS
TRY NOW RISK-FREE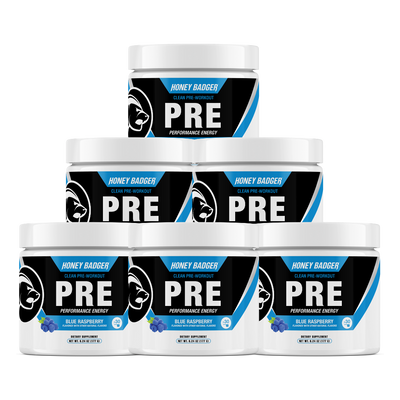 BUY 6 SAVE 40% OFF
BEST SAVINGS

MIX & MATCH 6 ITEMS
TRY NOW RISK-FREE
As seen on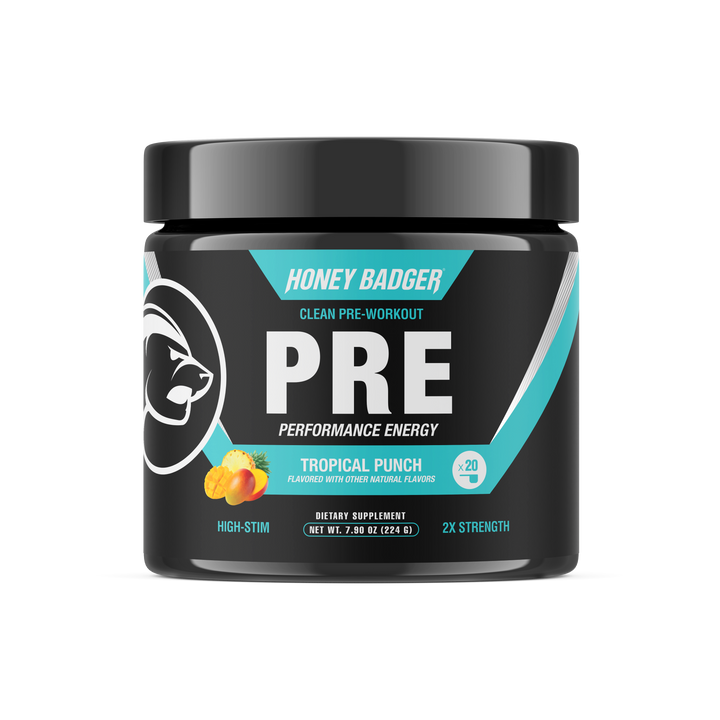 As seen on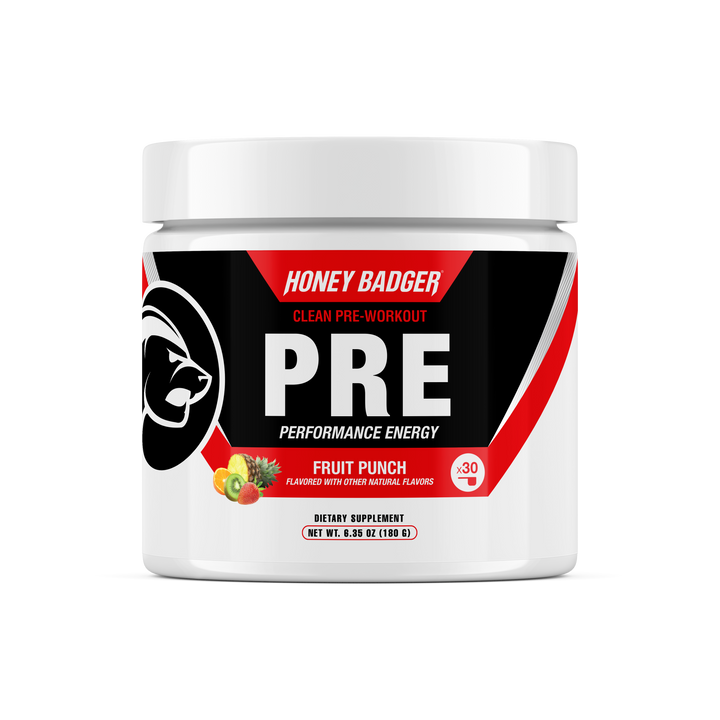 As seen on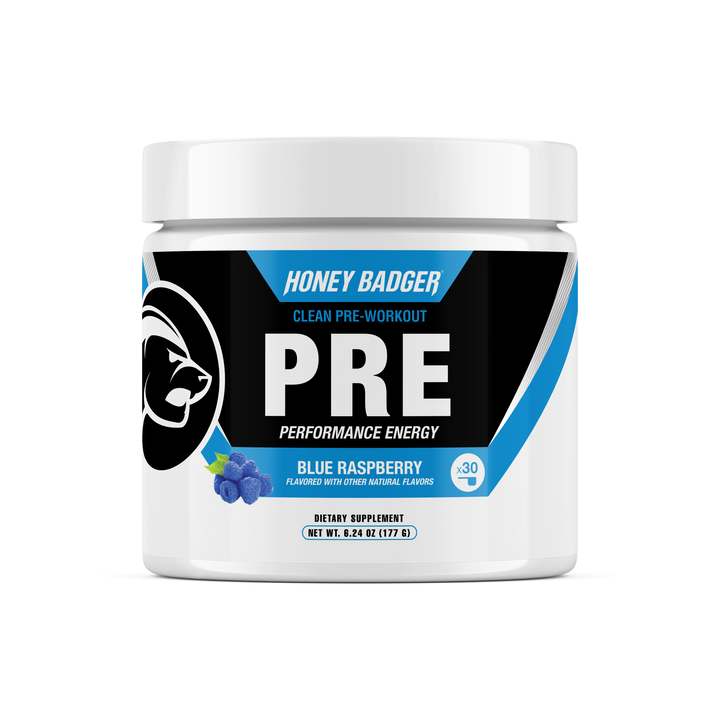 As seen on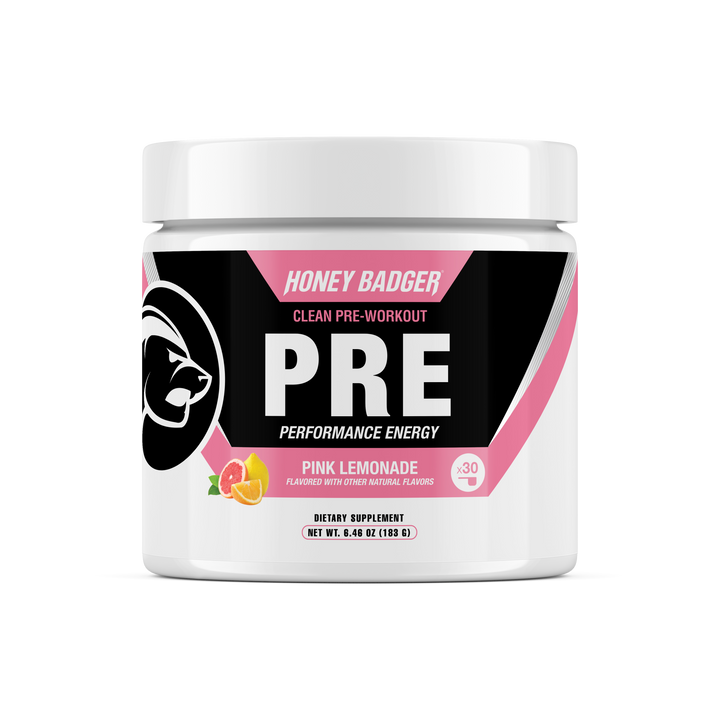 As seen on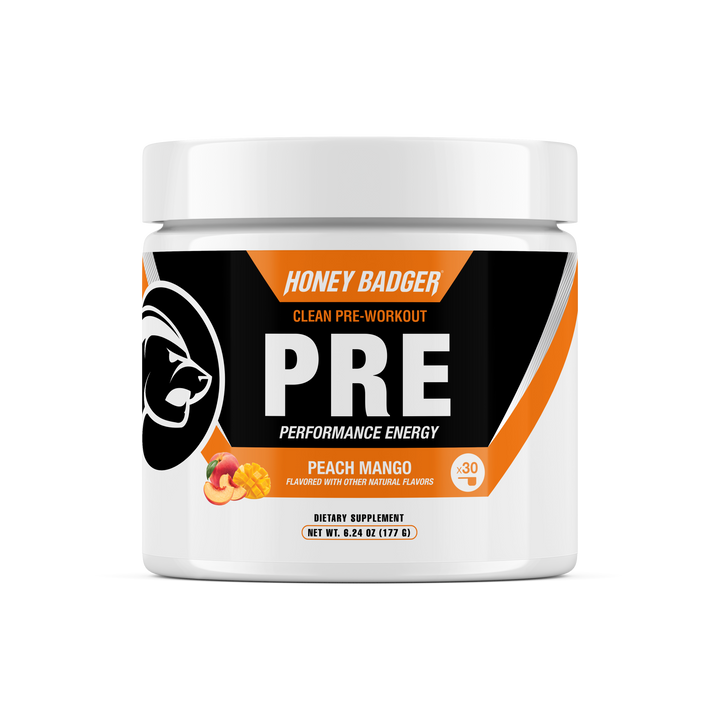 As seen on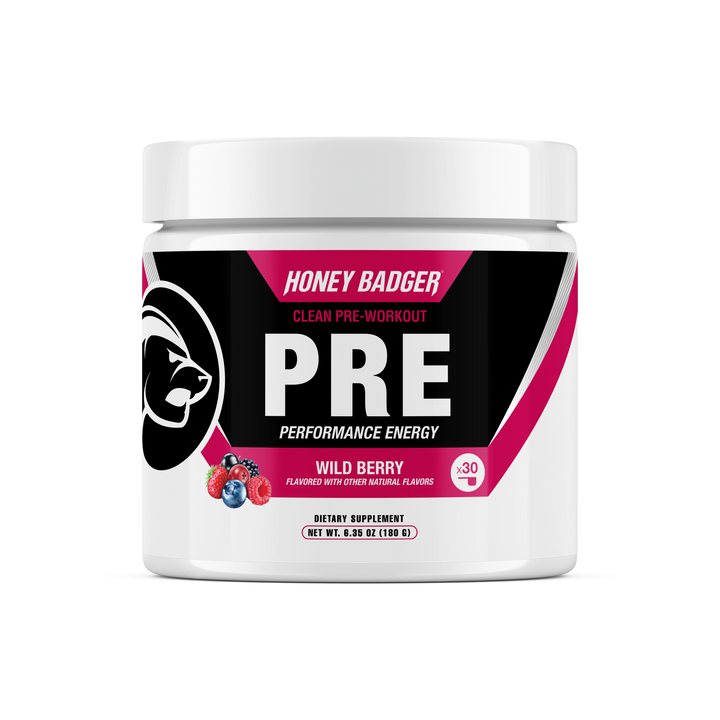 As seen on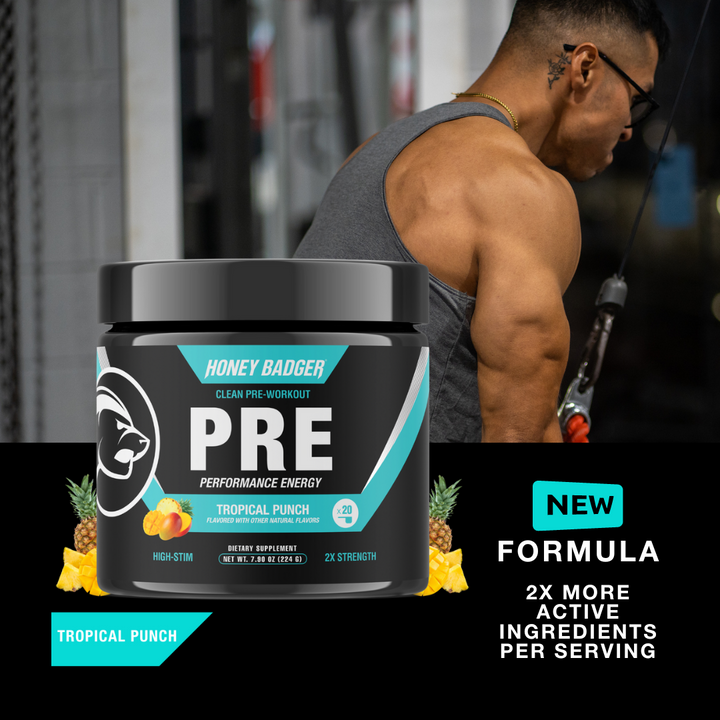 As seen on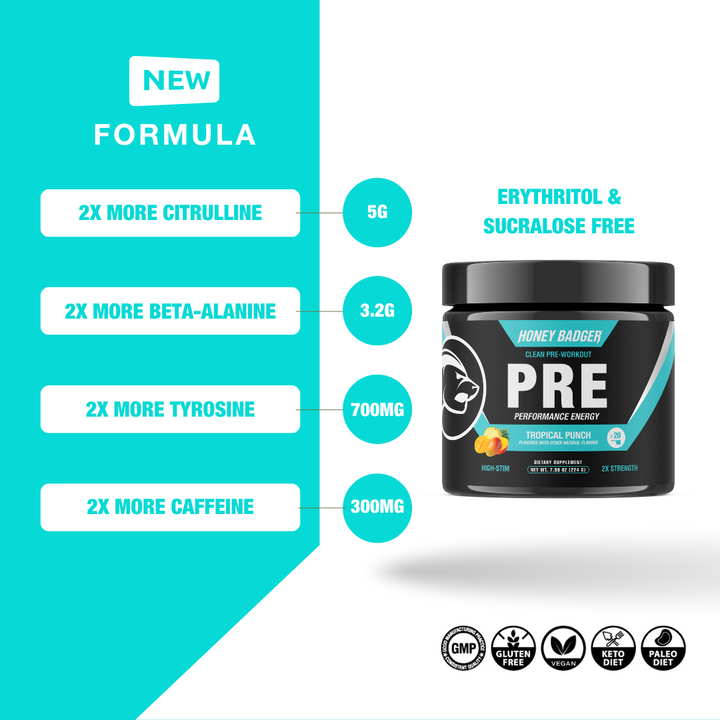 As seen on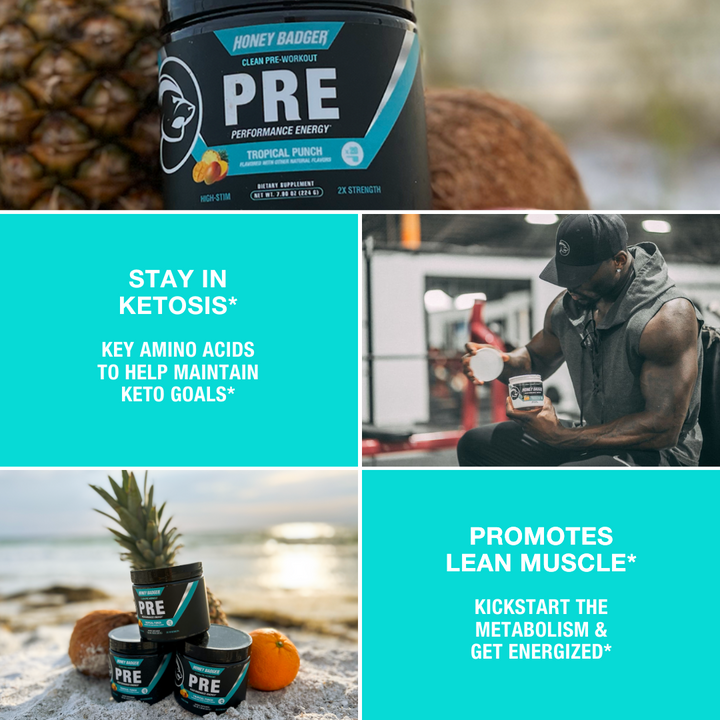 As seen on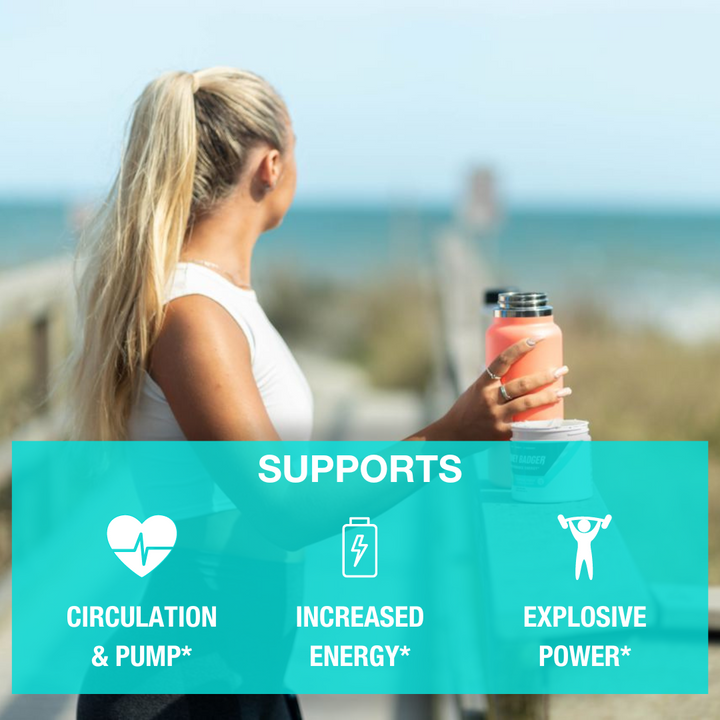 As seen on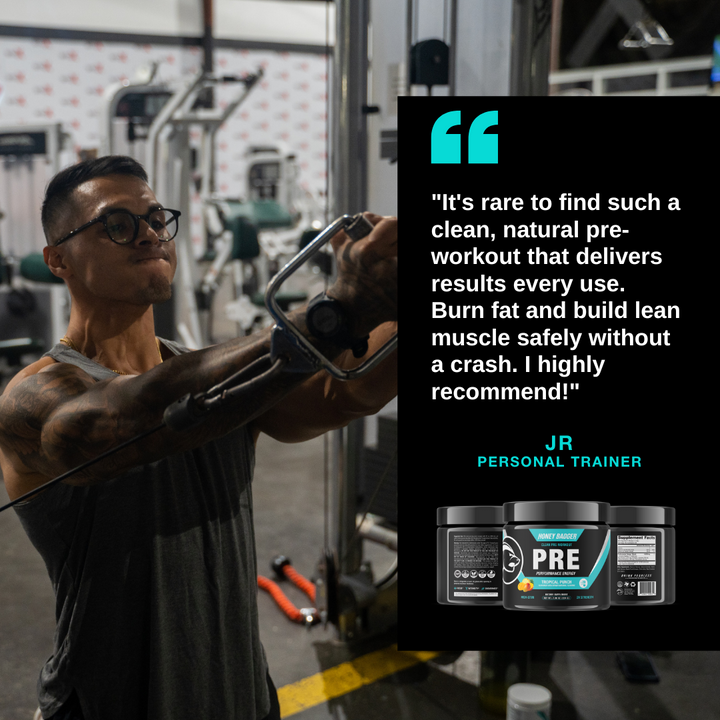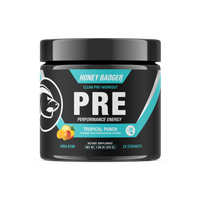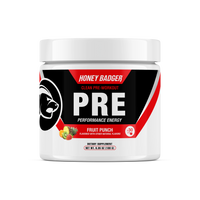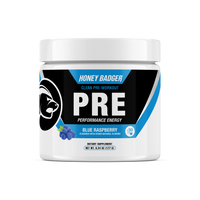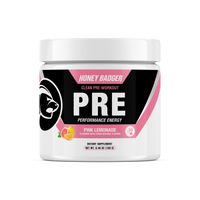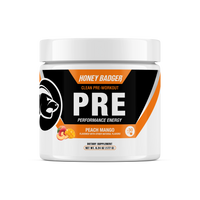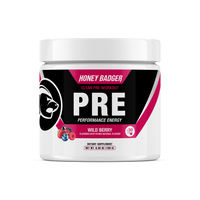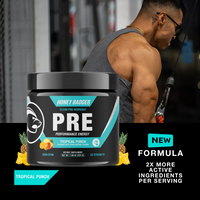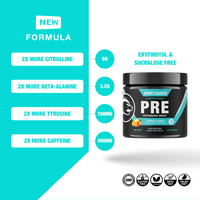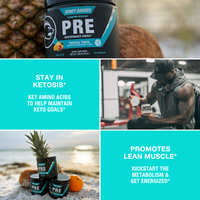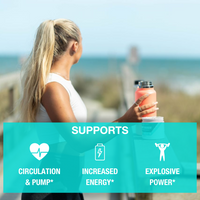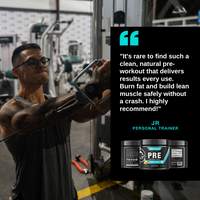 HONEY BADGER®
PRE-WORKOUT
SAVE UP TO 40% OFF YOUR FIRST PURCHASE
BUY 3 WITH DISCOUNT
Pay As Low As $18.35/Month
or
BEST-TASTING CLEAN PRE-WORKOUT OF 2022
FAST-ACTING, PROLONGED PERFORMANCE*
VEGAN, KETO, & PALEO TO HELP OPTIMIZE THE FASTING WINDOW
OPTIMIZE YOUR FASTING WINDOW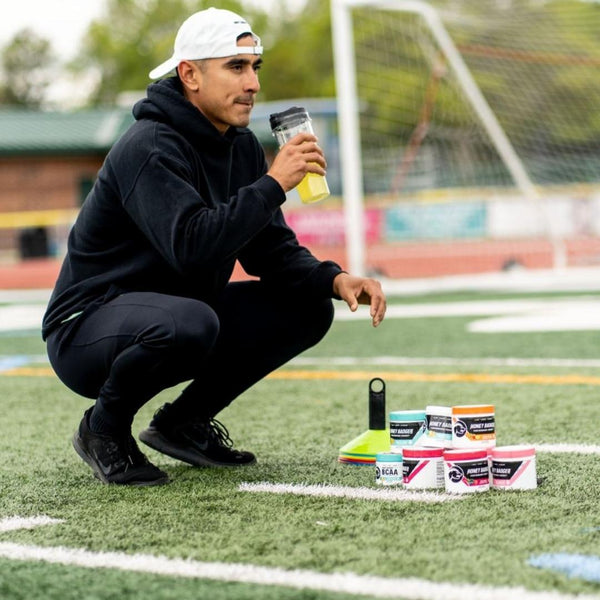 CLEAN FORMULA WITH NO ARTIFICIAL SWEETENERS
ZERO SUGAR = NO CRASH
STAY IN KETOSIS*
MADE IN THE USA WITH GMP & THIRD PARTY TESTED INGREDIENTS
NO SUGAR PLEASE!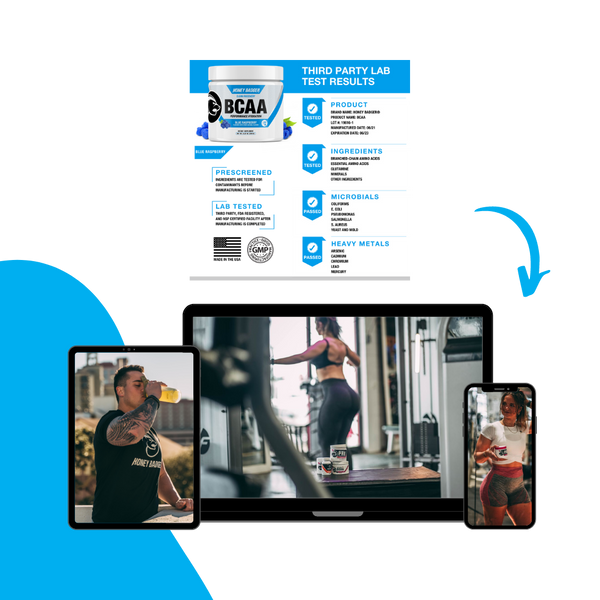 FRUIT-INSPIRED & NATURALLY SWEETENED
UNMATCHED CLEAN FLAVORS WITHOUT THE JUNK
HANDCRAFTED & UNIQUE FLAVORING SYSTEM
TRY THEM ALL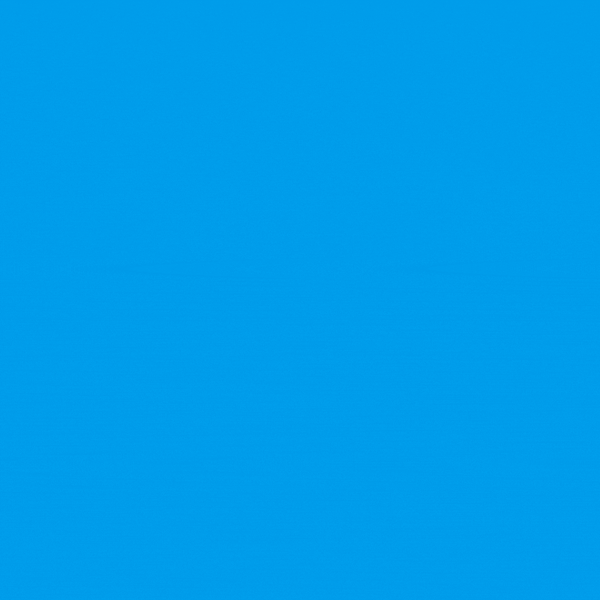 WHAT'S INSIDE?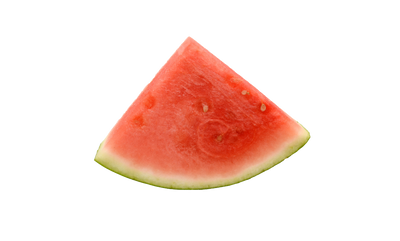 CITRULLINE
L-Citrulline Malate 3:1 increases nitric oxide and vasodilation for improved nutrient delivery, circulation, endurance, & pump.*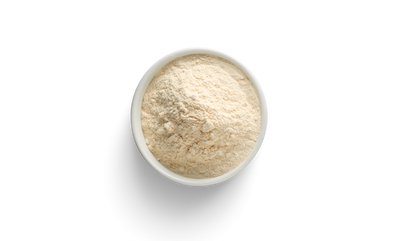 BETA-ALANINE
Beta-Alanine triggers carnosine production to help buffer lactic acid pushing the body beyond its level of fatigue for longer, harder.*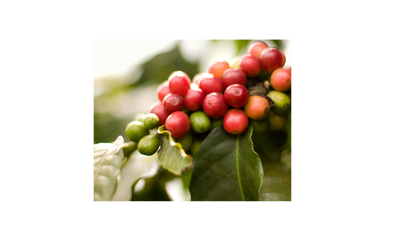 CAFFEINE
Caffeine Anhydrous (From Natural Plants) quickly enters the body to increase energy for balanced, consistent vitality.*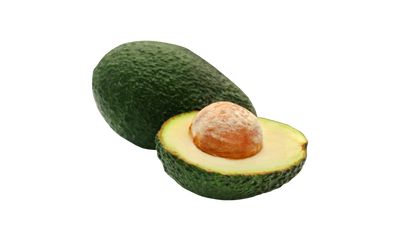 TYROSINE
N-Acetyl L-Tyrosine activates neurotransmitters in the brain warding off mental fatigue and elevating clarity & focus.*
CLEAN FORMULAS WITH LABEL TRANSPARENCY
SUPPLEMENT FACTS
Suggested Use: Mix one serving (one scoop) with 12 oz (355 mL) of water. Drink one serving daily 30 minutes prior to exercise or any activity. Do not exceed two servings within a 24-hour period.

Warning: Not intended for individuals under the age of 18. Consult your physician prior to using this product or any other supplement or if you are taking any OTC or prescription medications. Some individuals may experience a harmless tingling sensation, which is attributed to Beta-Alanine. DO NOT USE THIS PRODUCT IF YOU ARE PREGNANT OR NURSING. Discontinue use immediately and consult your healthcare professional if you experience any adverse reaction to this product. KEEP OUT OF REACH OF CHILDREN. Manufactured in the USA from international and domestic ingredients. DO NOT USE THIS PRODUCT IF THE SAFETY SEAL IS BROKEN OR MISSING. This product is sold by weight, not volume. Some settling of powder may occur during shipping and handling, which may affect the density of powder. This product contains the servings indicated when measured exactly by weight.
SHOP TRANSPARENT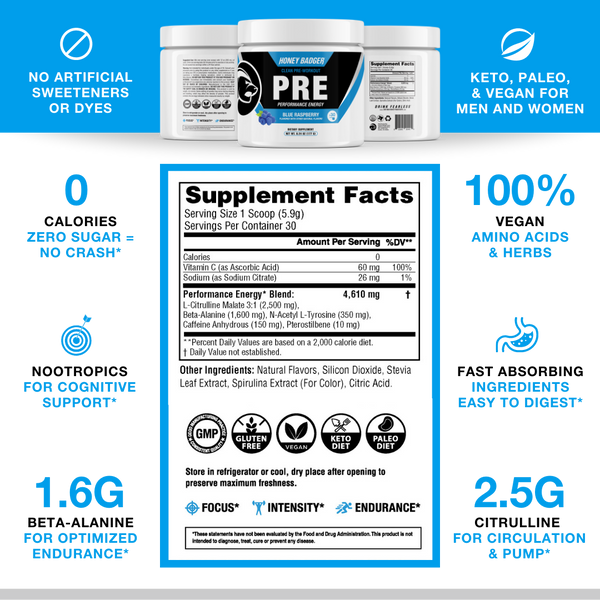 SCIENCE-BACKED FORMULATIONS
CUTTING EDGE RESEARCH
Our R&D team is led by top chemists within the supplement industry.
HIGHLY BIOAVAILABLE
All active ingredients are in superior form for maximum absorption.*
CLEAN FLAVOR
Carefully engineered flavor system to enable great-tasting products without the crash.*
AMAZING PRODUCT AND COMPANY!
*****
"Sooo thankful to have found such an amazing supplement company with clean products!"

TAYLOR SCHOEN
Fitness Model
DELICIOUS NATURAL PRE-WORKOUT
*****
"Best tasting natural pre-workout I've ever tried. Mixes easy, clean, and quality ingredients. It covers all the essentials, I'm not sure I can use or recommend any other product after this!"

ISABELLA PATTERSON
Fitness Model
CLEAN INGREDIENTS
*****
"It's rare to find such a clean, natural pre-workout that delivers on results without mega doses of stimulants. Burn fat and build lean muscle safely without a crash. Highly recommend."

ASHLEY MUIR
Fitness Model
HEAR FROM CERTIFIED TRAINERS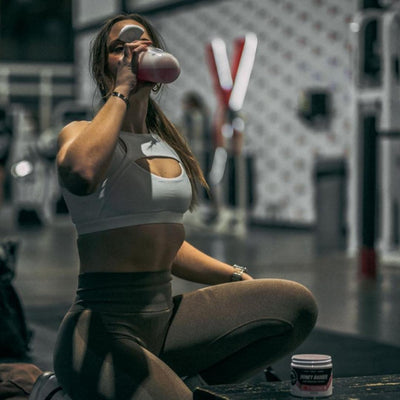 CAITLYNN DENNIE
"Honey Badger tastes amazing. Happy to share with all my clients."
GET GREAT-TASTING FLAVOR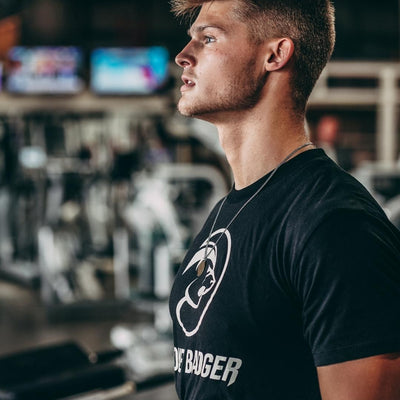 CODY BOKASH
"Honey Badger is the best natural pre-workout hands down."
SWITCH TO CLEAN PRE-WORKOUT